As Iraqi Security Forces continue their advances in the operation to retake Mosul, edging closer to the city itself, the next stage in the operation will be heavily influenced by local civilian behaviour. The steady stream of news stories and analysis articles fills the media scene, but not many of these pieces incorporate opinions of actual Maslawis (people from Mosul). Restrictions imposed by ISIS on communications, and harsh punishments (including execution) for those suspected of talking to journalists, mean that information flow from Mosul through traditional journalistic channels is almost impossible.
Aiming to address the near absence of their voices in the media scene, a group of young Maslawis decided to form the "Nineveh Youth Cell", comprising of around 40 Mosul IDPs collecting information from a network of friends and relatives inside Mosul, and posting them as breaking news, articles, and exclusive videos on a dedicated Facebook Page.
The effort, which is still in its early stages, is led by Saker Maan Al-Zakaria, a journalist and civil activist who left Mosul days before it fell to ISIS. Saker was born in Mosul in 1987, lived all of his life there, graduating from the city's College of Fine Arts. He is no stranger to ordinary Maslawis, in addition to having 79k followers on Facebook, he comes from a well known family. His father, Maan Al-Zakaria is the city's top historian, often known as the "historian of Mosul", and his great grandfather, Haj Zakaria al-Tajir established one of the schools in Mosul in the 18th century, teaching Quran.
While Saker left Mosul shortly before ISIS takeover, he was able to see the gradual process which made it possible. "Mosul was like a dying man, local politicians fueled tensions with the security forces, and extremist elements became increasingly visible on the streets." Despite that, when the city fell to ISIS, Saker was in denial, until friends showed him live camera phone images of ISIS elements manning the streets. "These were moments I will never forget, almost had a nervous breakdown, couldn't sleep for days."
Saker remained in daily contact with friends and relatives in Mosul, managing to circumvent ISIS restrictions. The depressing news kept coming as ISIS solidified their grip over the city, imposing dress codes, lifestyle changes, and eventually public punishments and executions of those suspected of showing any resistance. "We feel the city was being heavily polluted by ISIS ideology" Saker said. He added that the social infrastructure was being methodically destroyed by these transnational terrorists.
As the preparations for the offensive to retake Mosul were becoming more serious, opinions from inside the city were mainly of concern. ISIS flooded Mosul with messages about Iraqi (including Kurdish) troops planning revenge against civilians. Saker says: "People felt they will be between an ISIS siege on one hand, and the threat of those planning to fight it on the other, and they started to lose faith, and any sense of belonging."
However, as the Mosul operations were launched, and villages started to be liberated, the entire atmosphere shifted. "With each step the Iraqi Army makes towards Mosul, people feel closer to salvation" Saker said, adding "Frankly, there is even a feeling of regret/contrition by those who had unfavourable views towards the Iraqi Security Forces, and didn't mind them being replaced by ISIS." Saker describes these people as "victims of political tensions and provocative statements".
When asked about the attitude towards different factions involved in the Mosul operations, Saker didn't want to go into details, saying that what matters to Maslawis is that only the Iraqi Army and Federal Police will be entering the city. But he was a lot more vocal about Turkish involvement. "While some inside Mosul showed indifference about the Turkish statements, many were very angered." He explains that people in general feel that Turkey simply left them to face ISIS on their own, despite the heavy influence they had in Mosul. "Turkey is not interested in helping Mosul, but rather counterbalance the Iranian influence, serving its own interests" Saker added.
The Nineveh Youth Cell launched a campaign against the provocative statements by the Turkish President, using a hashtag saying "Mosul is Iraqi" (#الموصل_عراقية). Saker describes the Maslawi youth group reaction as "even stronger than that of the Iraqi government."
Saker and his colleagues are not under any illusions about post-liberation challenges. "It is going to be difficult, but not impossible" he says. The amount of damage Mosul was subject to is huge. The service sector is in ruins, but the ideological damage is is even more worrying. When asked about political plans for Mosul, Saker says that his group and also people inside Mosul are not specifically attached to a certain political model for Mosul after ISIS. "People are mainly concerned about their direct lively needs. Politicians, both federal and local, left us to face ISIS on our own, why should we buy their plans now?"
The Nineveh Youth Cell includes Maslawis from different backgrounds and ethnicities. Saker describes the group as "a model for how different Maslawis can discuss issues and make decisions, with frank voices, firm belief in civil values, and a strong commitment to a better future." They do have their differences, and individual political affiliations, but they still manage to reach in agreement for the united aim, conveying the voices of Mosul, supporting the Iraqi Security Forces to defeat ISIS with minimal losses, and engage in a positive exchange of opinions on how to rebuild the exhausted city.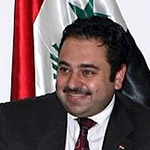 Ahmed Shames
Iraqi Political Analyst. Former Political Advisor to British Embassy and Press Officer at Iraqi PMO.