Expat Sunni cleric Ahmed Al-Kubaisi greeted by Sunni Endowment President Abd Al-Latif Al-Humayim
By Hamzeh Hadad
Iraq's Sunni community has long been politically and religiously lacking a centralized leadership figure. Shia, on the other hand, while politically divided under different party leaders, have been united under the guidance of their Marjiya (seminary), which is led by Grand Ayatollah Ali Al-Sistani, who can be compared to something like a pope for the country's majority Shia Muslims. Some argue that the lack of a religious leader for Sunnis is the Achilles heel of the community and an important factor in their disunity. For a brief period, Nineveh-based political leader and former Speaker of Parliament Osama Al-Nujaifi appeared to be the strong political figure that could compensate for the lack of a religious leader, but his answer to their problems was shortsighted. Nujaifi tried to replicate the Kurdistan Region's semi-autonomy and implement that system in the Sunni provinces of Anbar, Salahuddin and Nineveh, but that project was dead on arrival. Recently, a new effort was put forward to create a sort of "Sunni Marjiya" spearheaded by Sunni Endowment President Abd Al-Latif Al-Humayim and expat Sunni cleric Ahmed Al-Kubaisi.
Kubaisi came to Baghdad last week and met with other Sunni religious leaders as well as Prime Minister Haider Al-Abadi. Kubaisi proposed the idea of establishing a leading Sunni religious position similar to that of the Grand Ayatollah in the seminary in Najaf. While there is a Grand Mufti in Iraq, Kubaisi wants a leadership with more of a social role claiming not only Shia but also other religious minorities like the Christians and Yezidis have a religious head to represent them. The issue of Sunni clerical representation amongst society falls back on religious practices but in this moment of time it would make sense for Iraq's Sunnis to have a religious authority as they continue to be divided on political leadership worthy of their support.
Establishing a semi-autonomous region and a "Sunni Marjiya" are two different things, but they are both proposed with the intention of Sunni empowerment. Considering how there is little motive for a majority of Iraqis to see the Sunni majority inhabited provinces to form a region, it is assuring to see Sunni religious leaders providing another option that is more viable to support their community, which has benefited other groups. However, the biggest criticism of Kubaisi's suggestion came from his idea of having Abd Al-Latif Al-Humayim a fellow Anbari and current head of the Sunni Endowment by appointment of Prime Minister Abadi.
Across post-ISIS Iraq, Sunni-on-Sunni violence has become rampant in the aftermath of liberation. Tribes and communities that suffered under the rule of the terror group are identifying families whose sons joined the group or daughters married ISIS militants. These families are then sent death threats demanding they leave the area or face violence. A Sunni religious head representative of his people would have to lead efforts to reconcile and heal these fractured communities in an effort to prevent further radicalization. Such projects would also help the federal government with its efforts to tackle the IDP situation across the country.
It is important to note that this is not the first time a proposal has been put forth for a religious leader to head the Sunni community spiritually and socially. However, multiple candidates proposed in the past such as Abdulmalik Al-Sa'adi and Ha'arith Al-Dhari have failed due to links to terrorist groups. Humayim, on the other hand, has a more moderate past, with a secular education in Baghdad in addition to an Islamic education from Cairo. However, the downside of having someone like Humayim as a Sunni Marji stems from the fact that he is a businessman. Humayim is wealthy and his companies have been accused of corruption. His son was recently arrested on the border with Jordan over allegations of wrongdoing in the Sunni Endowment. Humayim was also Saddam's religious advisor and a business partner of Saddam's son, Uday.
Both a semi-autonomous Sunni region and a Sunni religious authority look unlikely in the near future, but it is essential that different solutions within the constitution and law be presented to resolve issues plaguing the Sunni community for years. Disenfranchised Sunnis will know better not to fall for extremist groups to counter grievances having experienced tremendous heartache through displacement, oppressive ISIS occupation and in thousands of cases, death. While a Sunni region is within constitutional rights, it is often seen as a sectarian path to legally define sectarian lines amongst Iraqi society, prompting Kubaisi's alternative suggestion.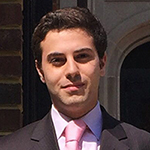 Hamzeh Hadad
Hamzeh Hadad is an Iraqi writer and commentator. He is currently a Master of Arts candidate at the Norman Paterson School of International Affairs.