National reconciliation seems to be an important topic to focus on in a state as diverse as Iraq, considering all the violence the country has witnessed. However, according to a nationwide poll conducted in the summer of 2017 by Al-Bayan Center for Studies and Planning, national reconciliation is near the bottom of the priorities of most Iraqis. Citizens are more concerned with security and the economy, which is why these concerns should be the focus of foreign assistance and aid.
Out of 2,310 Iraqis polled from all 18 provinces (each participant selected their two main priorities), the top four election pledges citizens want to see candidates deliver on were: services and economy, security and border protection, job creation and anti-corruption. Only 1.5% voiced concern regarding resolution of issues between the Federal and Kurdistan Regional Government and 1.4% on resolving issues between the Federal Government and Sunni majority governorates.
Table shows the election pledges which respondents most like to see candidates deliver on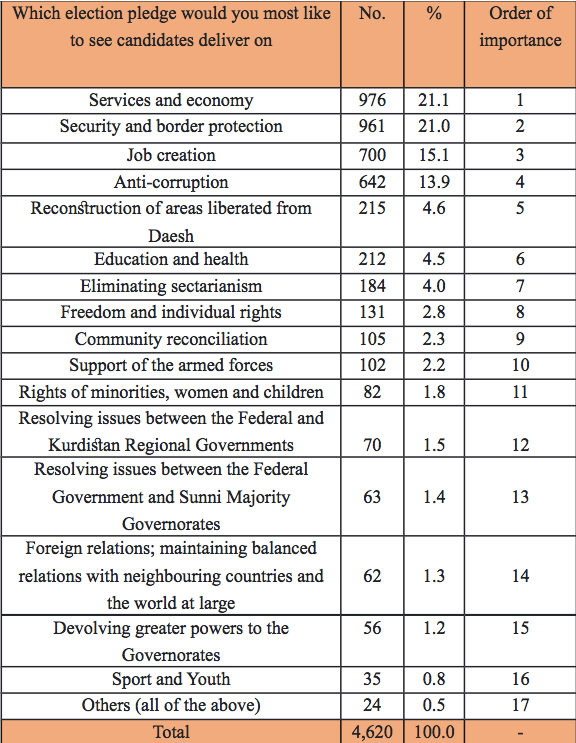 It is important to note that after the four main concerns, the fifth was reconstruction of areas liberated from Daesh and that falls in line with security in stability as well. The fact this was fifth in the order of importance for pollsters reveals that the economy and security concerns all Iraqis and not just those from liberated areas. This is not surprising as a 2017 World Bank Group's report shows that during the height of the sectarian violence between 2007 and 2012, everywhere in Iraq saw a decrease in poverty rates except in southern Iraq which saw an increase. Even Baghdad, which is home to around a fifth of the Iraqi population, saw minimal decrease in poverty in those five years unlike the Kurdistan Region and provinces later inhabited by Daesh.

It is promising that Kuwait is hosting a conference regarding raising funds to reconstruct the liberated areas and invite foreign investment, which is more needed to help Iraq than national reconciliation. Iraqis are already seeing bilateral relations between Baghdad and Erbil improve since the all-time low from the Kurdish referendum in September 2017. Prime Minister Haider Al-Abadi has met with KRG Prime Minister and Deputy-Prime Minister multiple times in just the month of January. This is in addition to many meetings between other Kurdish delegations visiting the Iraqi capital looking to start a new page between the Kurdistan Region and the rest of Iraq leading into the 2018 national election.
As for Sunni majority governorates, there is an improved relationship between Baghdad and the latest governors appointed in the provinces of Anbar, Nineveh and Salahuddin than previous years. Abadi's popularity is also at an all-time high in Sunni majority areas that should lead to stronger relations between the local governments and the federal government. Therefore, issues between the KRG and Sunni majority governorates with Baghdad are already being dealt with. Citizens see no real concern over these issues taking a wrong turn going into the election.
Foreign assistance can continue to support the reconciliation and decentralization process in Iraq but if the likes of the United States want to ensure that the democratization of Iraq continues to move in the right direction, they need to support the federal government with the issues its citizens are most concerned with. The voter turnout in the 2014 and 2010 elections were 60% and 62% respectively, and it is important for Iraq's nascent democracy to not see that turnout to drop below 60% in May 2018 and beyond. The only way to ensure that does not happen is to deliver on the concerns of citizens. There will be pressure to do so as the defeat of Daesh by the Iraqi Security Forces leaves the federal government without the excuse of fighting a war for any shortfalls that may occur.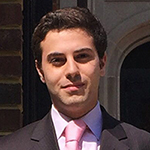 Hamzeh Hadad
Hamzeh Hadad is an Iraqi writer and commentator. He is currently a Master of Arts candidate at the Norman Paterson School of International Affairs.