Civilian casualties from violent attacks in Iraq fell by 45% in December compared to the previous month, according to the United Nations. The figures released by UNAMI show that a total of 69 civilians were killed and 142 injured across Iraq, although casualties in Anbar could not be verified.
Since operations to liberate Mosul were launched in October 2016, civilian casualties overall have fallen significantly across the country. UNAMI recorded 1120 deaths in October 2016 – sixteen times higher than last month's count. Iraq declared victory against Daesh on December 9th, after the last remaining border towns and desert regions in Anbar province were captured by Iraqi Security Forces and Hashd al-Shaabi. Mosul, Iraq's second biggest city and self-declared capital of Daesh's so-called caliphate was officially liberated in July 2017.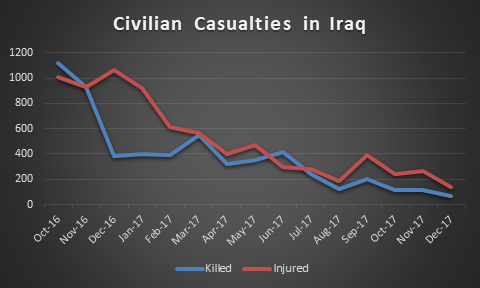 While UNAMI's figures are the most conservative estimates of violence – since they only include verifiable casualties and exclude deaths and injuries within armed actors including the Iraqi Security Forces and Hashd al-Shaabi –  the tally illustrates a clear trend towards a much improved security environment.
There were no mass casualty attacks in Baghdad last month and violent incidents in the capital are at their lowest rate since 2003. Much of this can be attributed to a combination of three factors: Daesh's capacity to carry out attacks has been severely weakened by military operations that include greater control over the Iraq-Syria border; Iraq is relying far more on intelligence gathering to intercept attacks including suicide bombers targeting the capital; and local-based support and sympathy for the terror network has diminished greatly.
Ali Hadi Al-Musawi
Ali Hadi Al-Musawi is an Iraqi analyst and contributing writer at 1001 Iraqi Thoughts.